This is a gem of a blog! I found the most amazing bargains there...I've been looking for barstools and there they were...you have to check out this super cute blog.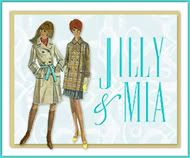 And, I just chatted with Minda from Jilly & Mia, and I adore this blog.
There's so many fun projects and things to see and do and be jealous of...
You have to see it!